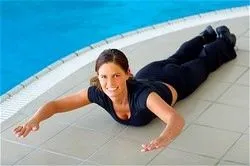 Therapeutic exercise is a rehabilitative exercise program designed to increase flexibility and range of motion, strengthen muscles and ligaments, and improve balance.
Acute and chronic injury, poor posture, disc problems, misalignaments and improper motion of the joints of the spine and extremity weaken the body and leave it susceptible to pain and injury.
Therapeutic exercise helps maintain good posture, stabilize the spine and extremity joints, and protect the body from injury or reinjury.
Chiropractic care and therapeutic exercise help restore and maintain health and function, allowing you to feel better, move better and improve the quality of life.
Ask us how you can benefit from a custom therapeutic exercise program!